TENUTA MASSERIA CHICCO RIZZO
…a place where time slow down once again
Our Philosophy...
When you pass through the gates of the Tenuta Masseria Chicco Rizzo, the atmosphere of the past involves you in a very special experience: the deafening noise of your everyday life is transformed into silence, and… everything has the right time.
The colours of nature and places are food for our minds. The "masseria" nucleus is surrounded by 18 hectares of land: some planted with olive groves, some with vegetable gardens and some with fruit trees. All of them cultivated biologically and the air is pervaded by the smells of the land and its genuine products.
The sheer pleasure of getting back in touch with nature and being able to taste some delicacies will bring back memories of unique sensations. The gentle rustle of the leaves, the murmur of the wind mixed with the birdsong and the warmth of the sun will make your stay an unforgettable experience.  This is a green-holiday
As you savour our genuine food, prepared skilfully using traditional recipes, you will rediscover the taste of the ancient flavors … when you stay here pleasure involves all your senses.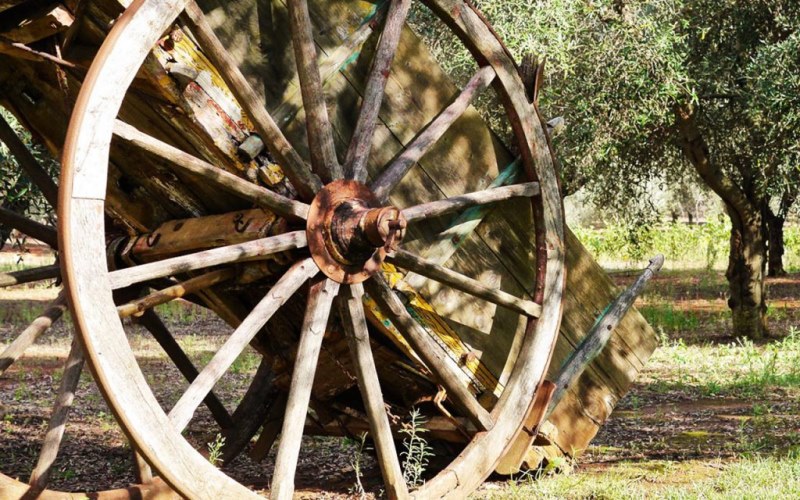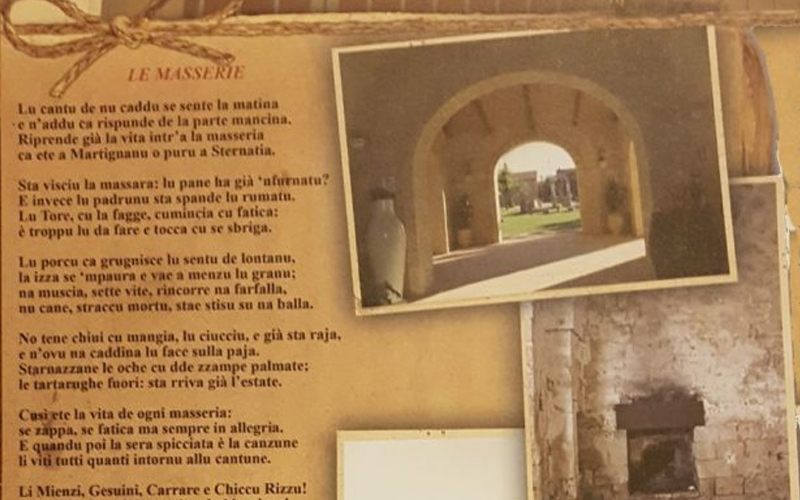 written by Don Renato Delos
"Le Masserie"
The cock's crow is heard in the morning
and another answers him from the left.
The "masseria" stirs itself back to life
whether in Martignano or in Sternatia…
But the Masseria Chiccu Rizzu was the one where
I was always happy to go again.
My father took me there to buy wheat
that way I met a man who was very Christian…
I know this place has always existed:
it once offered refreshments to the horse-station for mail of the past.
Horses and stagecoaches coming from afar
found someone to help them here…
Our Story
The Masseria Chiccu Rizzu is located between Lecce and Otranto in the heart of the area known as "Grecia Salentina", whose inhabitants still speak an ancient language descended from Ionian Greek known as Griko.
The farm takes its name from a type of wrinkled wheat. In the local dialect, chiccu is the grain of wheat and rizzu describes its wrinkled appearance. This area of the Salento peninsula has a long tradition of growing mainly wheat, as well as olives and other cereals.
The farm started life in the eighteenth century as a horse-station for mail, where stagecoaches could change their horses along the road from Roca Vecchia to Naunia. Later it transformed into the nerve centre of a large estate, or latifondo, belonging to local landowners and was managed by factors (massari) who worked in "sharecropping" and thus becomes a masseria.
The structure was recently subjected to a magnificant renovation lasting many years, which transformed it into an agritourism structure: the Tenuta Masseria Chicco Rizzo.